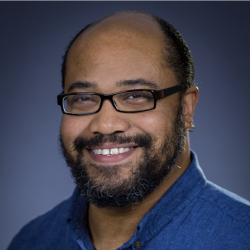 Robert Keith Collins
Associate Professor
Ph.D. Anthropology, UC Los Angeles
Email: rkc@sfsu.edu
Location: EP 109
Office Hours (Additional Info): 
Please feel free to schedule an appointment for an office hour with Dr. Collins by email. 
At SF State Since:
Fall 2006
Bio:
Robert Keith Collins, PhD, a four-field trained anthropologist, is Associate Professor of American Indian Studies at San Francisco State University. He holds a BA in Anthropology, a BA in Native American Studies, and a minor in Ethnic Studies from the University of California at Berkeley. Dr. Collins also holds an MA and PhD in Anthropology from UCLA. Using a person-centered ethnographic approach, his research explores American Indian cultural changes and African and Native American interactions in North, Central, and South America. His recent academic efforts include being a co-curator on the Smithsonian's traveling banner exhibit "IndiVisible: African-Native American Lives in the Americas,"  an edited volume with Cognella Press (2017) on "African and Native American Contact in the U.S.: Anthropological and Historical Perspectives", an edited volume for the American Indian Culture and Research Journal at UCLA (2013) on "Reducing Barriers to Native American Student Success", a forthcoming edited volume under contract with Routledge on "Studying African-Native Americans: Problems, Perspectives, and Prospects," a forthcoming edited volume under contract with Cognella Press (2021) on "Native American Populations and Colonial Diseases," and two books in final preparation: "African-Native Americans: Racial Expectations and Red-Black Lived Realities" (University of Minnesota Press) and "Memories of Kin that Race Can't Erase: Kinship, Memory, and Self Among African-Choctaw Mixed Bloods" (University of North Carolina Press).