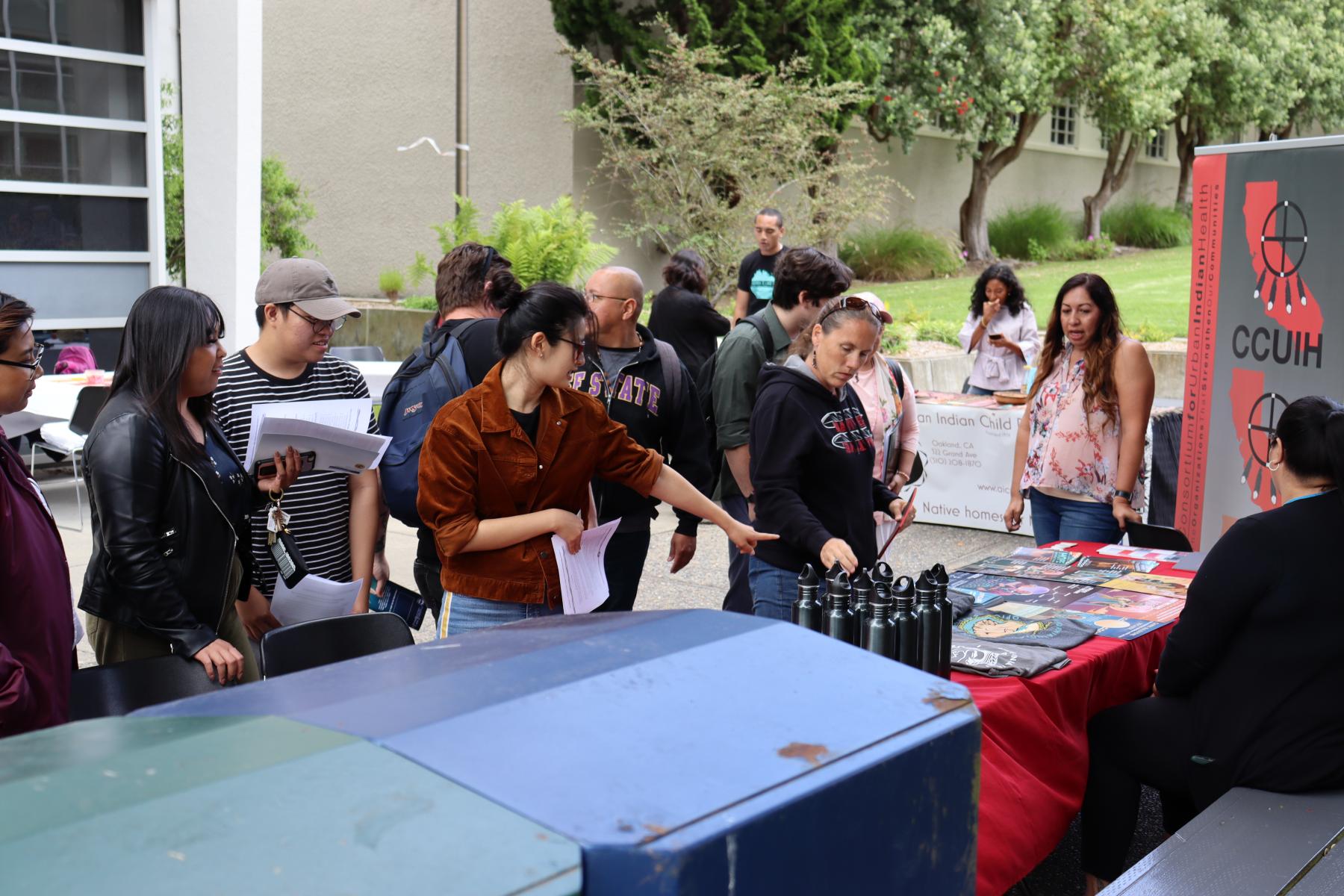 From the Community Organizing Fair, September 10, 2019
Through AIS 694: Community Service Learning, students integrate classroom education with community-based learning. Many of our graduates have gone on to work for community organizations or to found and direct their own.
Students work with an organization approved by the department. Students have the option of enrolling in 1 to 3 unit sections. The total number of service hours required over the semester depends on the units enrolled in: 1 unit = 15 hours; 2 units = 30 hours; 3 units = 45 hours. For the AIS major and minor, students must complete a total of 3 units but they can be taken in any combination. Up to 3 additional units may be taken as an elective.
Approved Organizations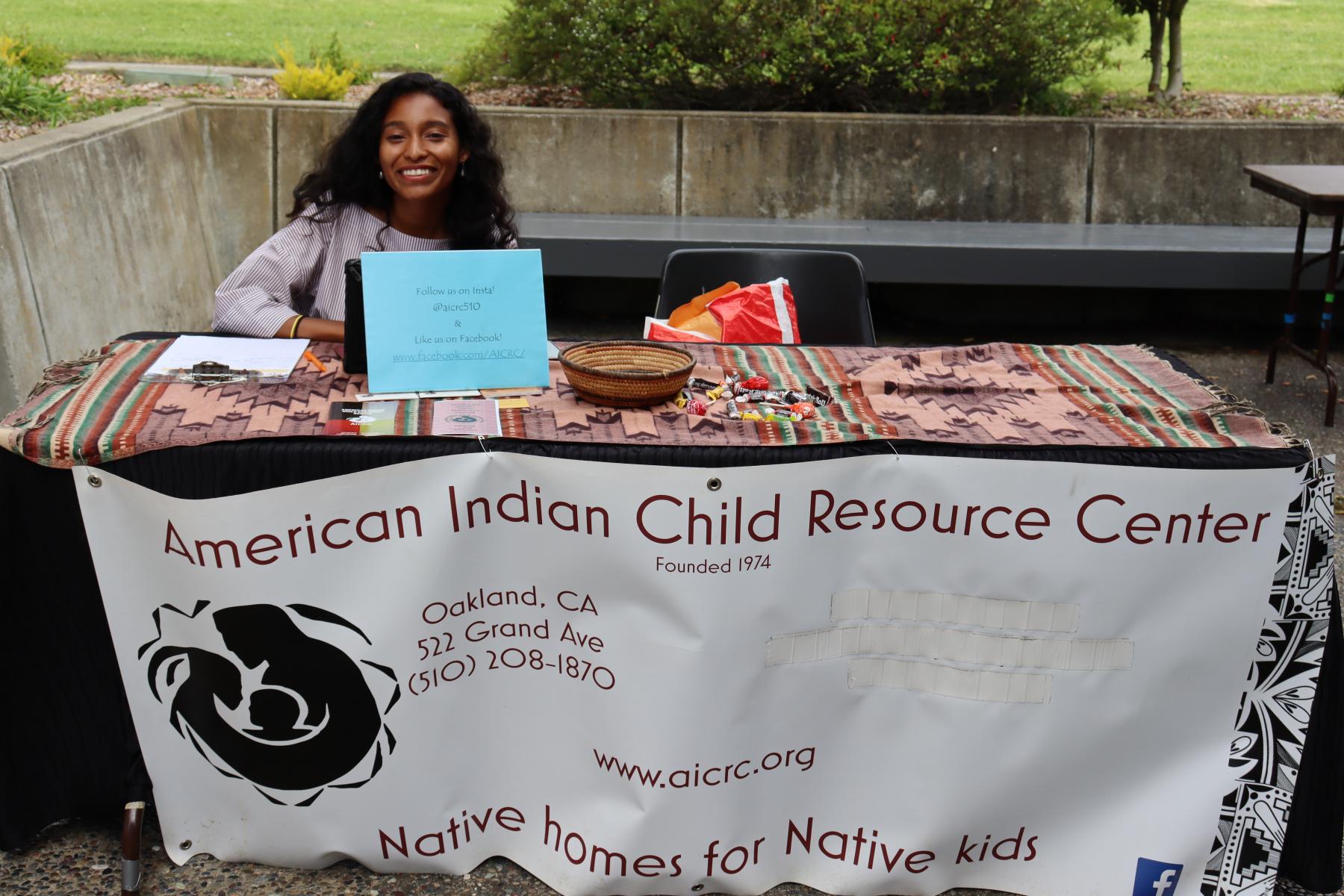 Nazshonnii Almaweri-Brown
American Indian Child Resource Center
The American Indian Child Resource Center is a non-profit social services and educational community-based organization serving American Indian community members from across the greater Oakland/San Francisco Bay Area and surrounding counties.
Contact: Mary Trimble Norris, Executive Director
Phone: (510) 208-1870, ext. 305
Email: mary@aicrc.org
Address: 522 Grand Avenue, Oakland, CA 94610
Visit Website of American Indian Child Resource Center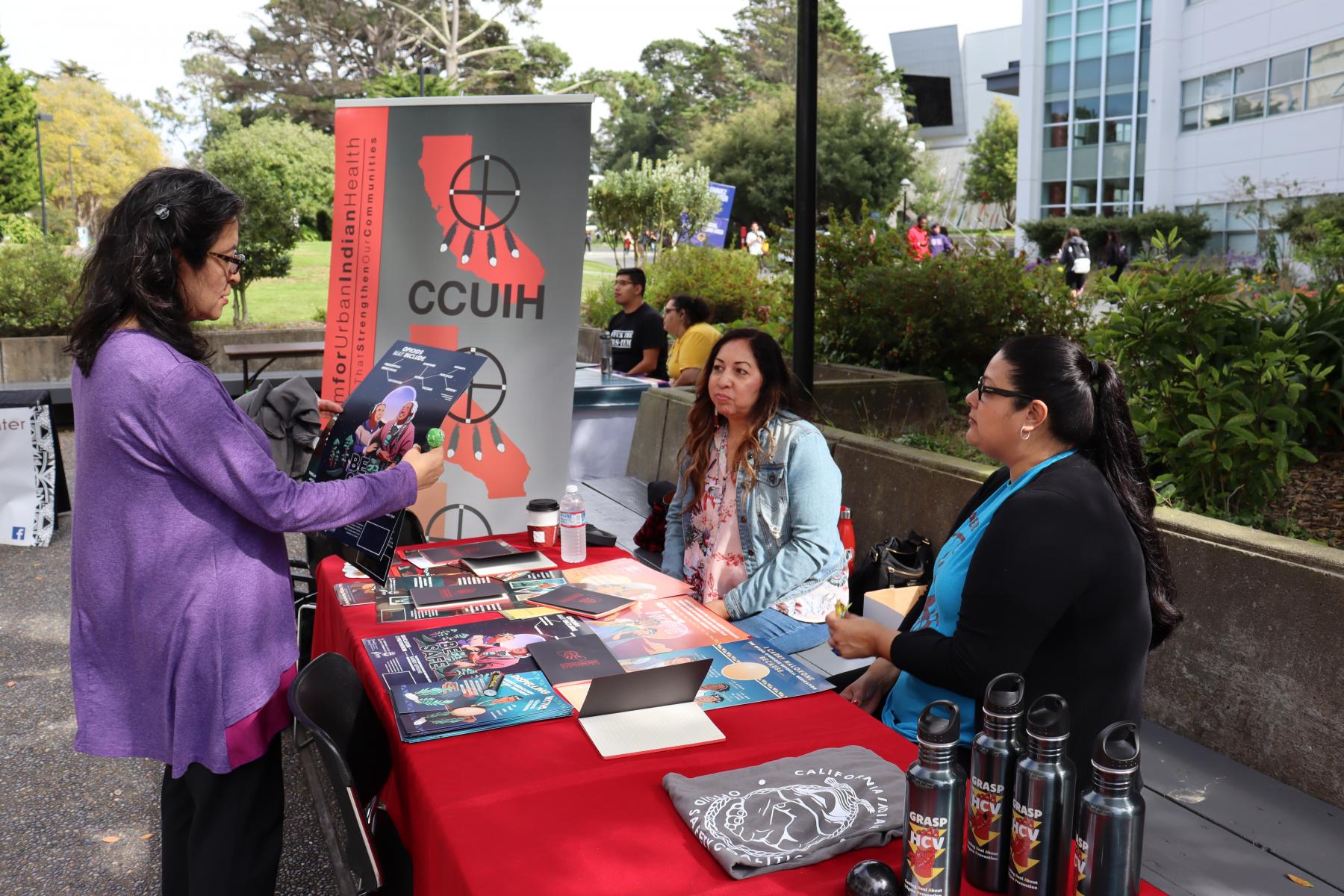 Catriona Esquibel, April McGill, and Jackie Pierson
California Consortium of Urban Indian Health
CCUIH is the statewide organization serving Urban Indian communities across California. We support health, wellness, and access to culturally centered services and programming by providing advocacy, expertise, and resources.
Contact: April McGill, Director, Community Projects
Phone: (415)-345-1205
Email: april@ccuih.org
Address: 1016 Lincoln Boulevard, Ste. 111, 94129
Visit Website of California Consortium of Urban Indian Health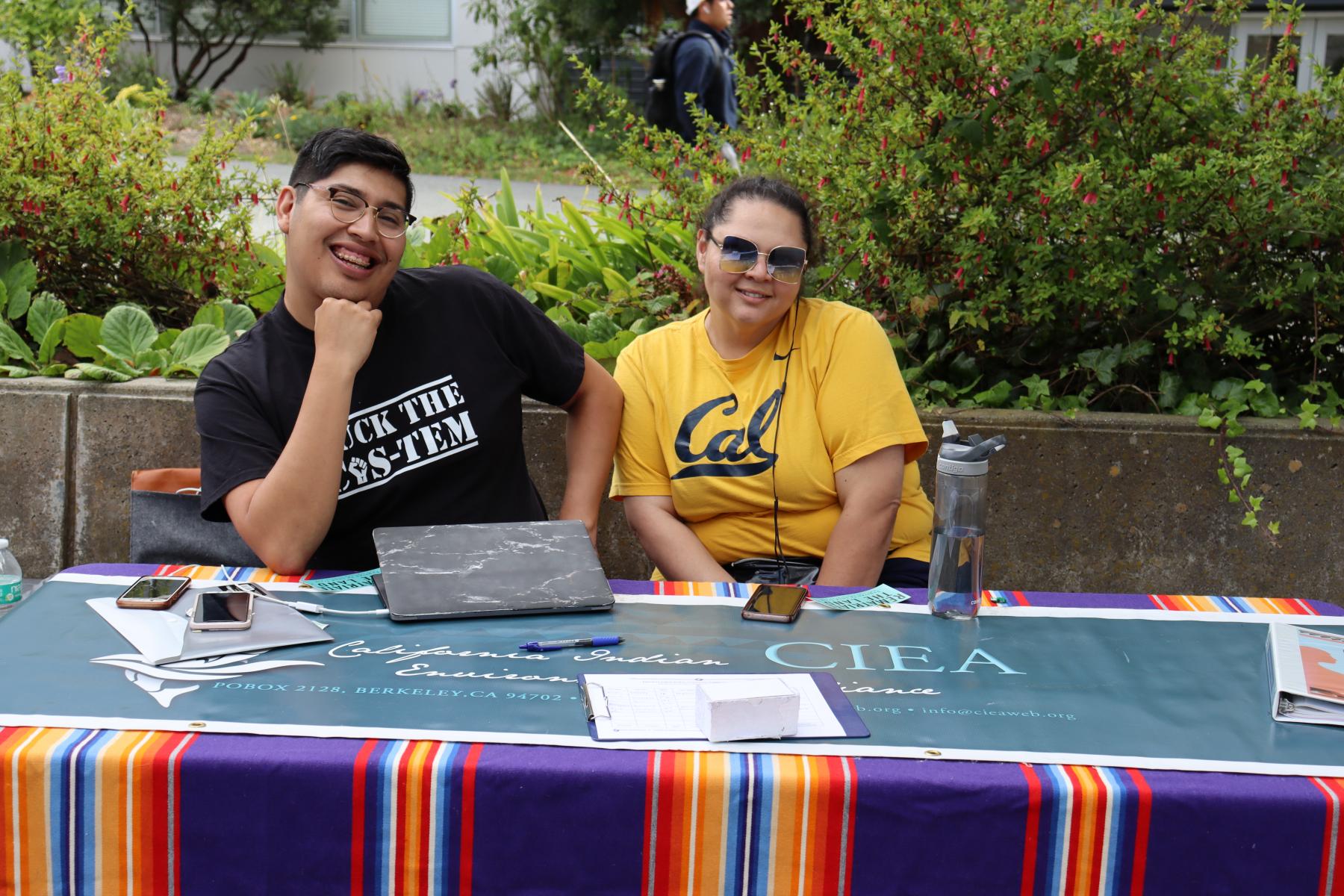 Joel Sedona
California Indian Environmental Alliance
The CIEA is a native nonprofit educational, tribal capacity-building and advocacy organization working on cleaning up mining toxins, with specific focus on mercury a neurotoxin that threatens the spiritual, ceremonial and cultural relationship of California Native Peoples by contaminating fish in California's rivers, lakes, streams and oceans.
Contact: Sherri Norris, Executive Director
Phone: (510) 848-2043
Email: sherri@cieaweb.org
Address: PO Box 2128, Berkeley, Ca. 94702
Visit Website of California Indian Environmental Alliance
Circle of Healing HIV and HVC Services/Native American Health Center
The Circle of Healing program is a group open to our whole community. In this group we focus on preventing HIV/AIDS and HCV. We try to provide our services in a caring, supportive, and culturally rich environment. Our goal is to offer services that extend from prevention to treatment. In these groups we provide education, practical support, coordination of services & advocacy.
Contact: Aurora Mamea
Office: (415) 621-4371, Ext. 525
Email: AuroraM@nativehealth.org
Address: 160 Capp Street, San Francisco
Visit Website of Native American Health Center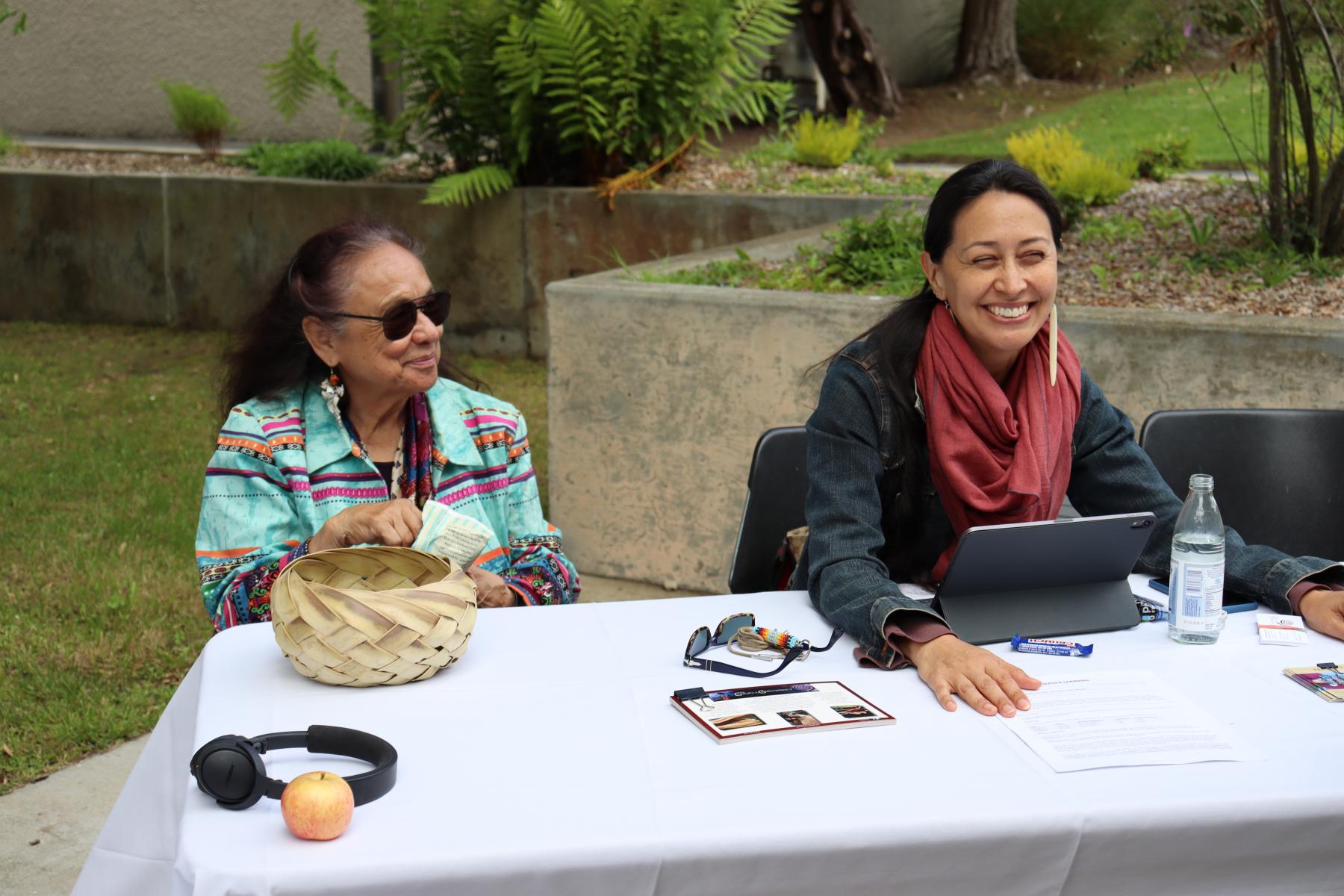 Betty Parent and Sara Moncada Madril
Cultural Conservancy
The Cultural Conservancy is a Native American nonprofit organization dedicated to the preservation and revitalization of indigenous cultures and their ancestral lands.
Contact: Melissa Nelson
Office: (415) 338-7062
Email: mknelson@sfsu.edu
Address: P.O. Box 29044, Presidio of San Francisco, CA 94129-0044
Visit Website of Native Land
Restoring Justice for Indigenous People
The mission of RJIP is to restore justice for Indigenous peoples in California, using our traditional life ways and culture as well as community organizing and advocacy to restore justice, defend and free our people in our ancestral homelands.
Contact: Morning Star Gali
Office: (916) 996-6580
Email: nativejusticenow@gmail.com
Visit Website of Restoring Justice for Indigenous People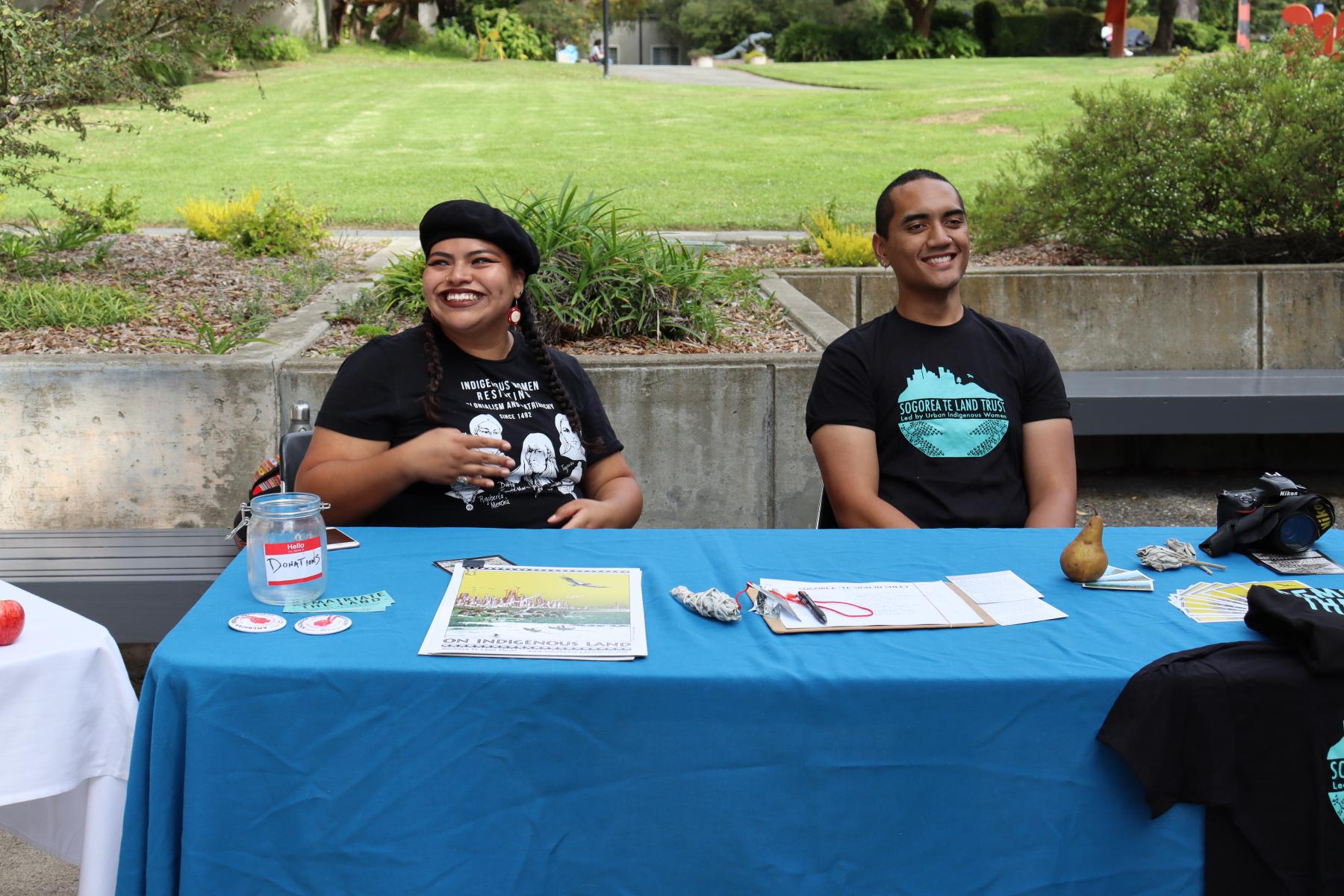 Segora Te Land Trust
An urban Indigenous women-led community organization that facilitates the return of Chochenyo and Karkin Ohlone lands in the San Francisco Bay Area to Indigenous stewardship. Sogorea Te creates opportunities for all people living in Ohlone territory to work together to re-envision the Bay Area community and what it means to live on Ohlone land. Guided by the belief that land is the foundation that can bring us together, Sogorea Te calls on us all to heal from the legacies of colonialism and genocide, to remember different ways of living, and to do the work that our ancestors and future generations are calling us to do.
Contact: Corrina Gould
Email: shellmoundwalk@yahoo.com
Inquiries: sogoreatelandtrust@gmail.com
Address: 2501 Harrison Street, Oakland, 94612
Visit Website of Segora Te' Land Trust/a>
Sovereign Bodies Institute
Sovereign Bodies Institute (SBI) builds on Indigenous traditions of data gathering and knowledge transfer to create, disseminate, and put into action research on gender and sexual violence against Indigenous people. AIS is partnering with UCB's Native American Student Development Office to provide internships with SBI. The work will involve social media, data entry, and research.
Contact: Annita Lucchesi, Executive Director
Email: annita@sovereign-bodies.org
Visit Website of Sovereign Bodies Institute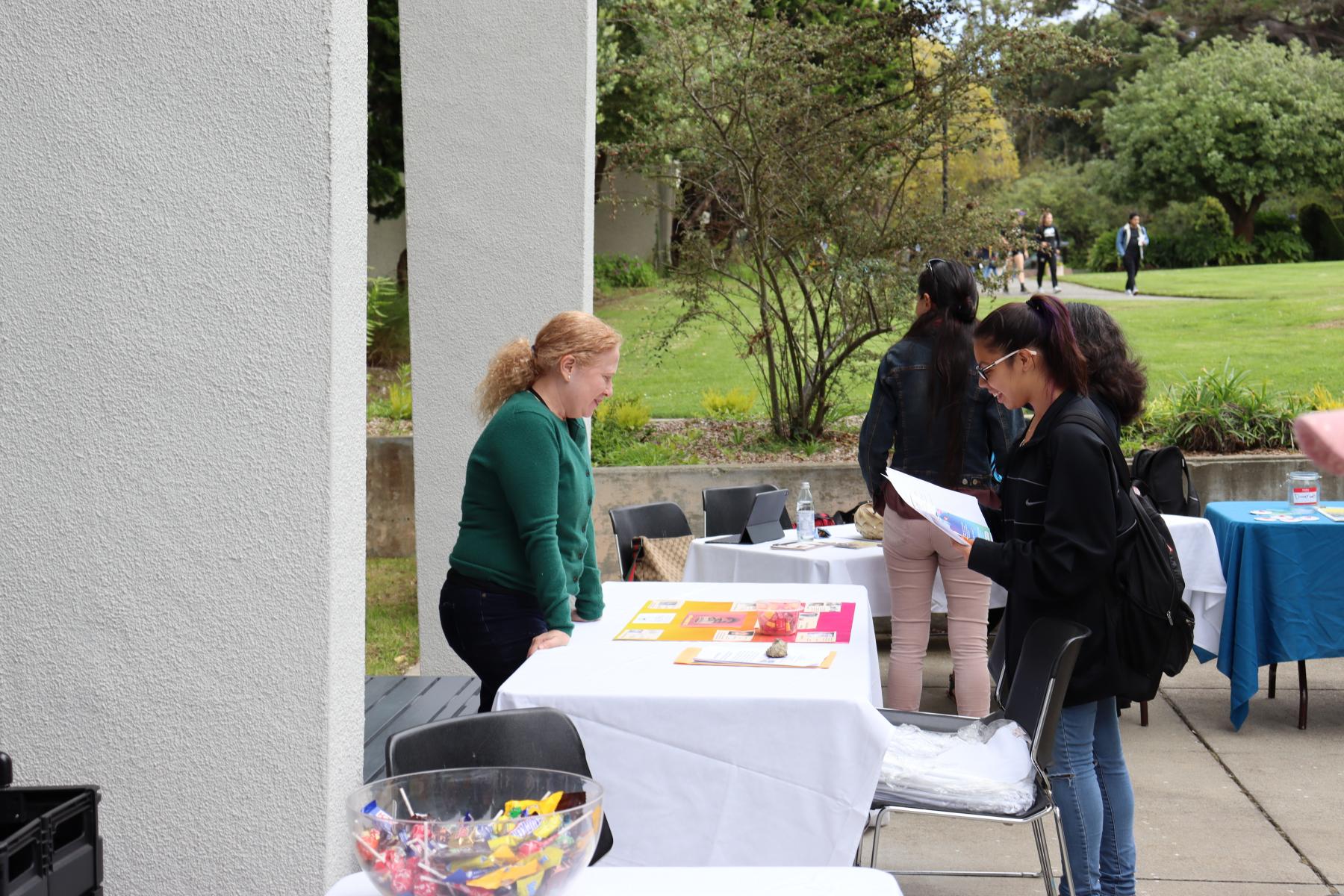 Michelle Fitzgeral
SF State NAGPRA Program
San Francisco State University is firmly committed to the repatriation of Native American human remains and cultural items whenever possible and to the respectful curation of cultural materials at all times. The primary goal of the SF State NAGPRA Program is to return ancestral remains and cultural objects to Native American communities.
Contact: Dr. Michelle Fitzgerald
Phone: 415-338-3075
Email: mkfitzgerald@sfsu.edu
Address: Science 115
Visit Website of the SF State Native American Graves Protection and Repatriation Act