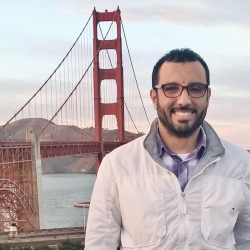 Baligh Ben Taleb
Assistant Professor
History Ph.D., University of Nebraska-Lincoln. Fulbright Scholar. ACLS Fellow
Email: bbentaleb@sfsu.edu
Location: EP 109
At SF State Since: 
Spring 2023 
Bio: 
Baligh Ben Taleb is Assistant Professor of American Indian Studies at San Francisco State University. He earned his Ph.D. (with distinction) and his M.A. in History from the University of Nebraska-Lincoln (UNL), and his B.A. (Honors) in English and American Studies from the University of Tunis. His research explores the histories of Indigenous societies, settler colonialism, race beyond the black/white paradigm, and transitional justice, with an emphasis on narratives and institutions, and the ways in which their legacies continue to shape the politics of the settler state. His first book project looks at the history of the Indian Claims Commission, as an early effort of historical redress, and its implications for traditional land and treaty rights of the Shoshone peoples in Nevada, and by extension American Indians' longstanding efforts to regain land that they have lost over centuries. His project has been generously supported by the American Council of Learned Societies (ACLS), the American Philosophical Society, the Center for Great Plains Studies, the Charles Redd Center for Western Studies, the Pennsylvania Historical Society, the Department of History and the Dean's Office at UNL, and the Fulbright Program. Before joining SF State, Dr. Ben Taleb was an ACLS Postdoctoral Fellow in Race, Ethnicity, and Indigeneity at the University of Wisconsin-Madison.   
Selected Works: 
Book Reviews:
Review, Lee M. Panich, "Narratives of Persistence Indigenous Negotiations of Colonialism in Alta and Baja California." American Indian Culture and Research Journal,  Vol. 45 No. 1, (2021).
Review, Raymond I. Orr, "Reservation Politics: Historical Trauma, Economic Development, and Intratribal Conflict." American Indian Quarterly, Vol. 43 No. 3, (2019): 368-371.
Review, Kate Fullagar and Michael A. McDonnell (eds.), "Facing Empire: Indigenous Experiences in a Revolutionary Age." Western Historical Quarterly, Vol. 50 No. 2, (2019): 164-165.
Review, Colleen Murphy, "The Conceptual Foundations of Transitional Justice." Historical Dialogues, Justice, and Memory Network, Columbia University, (2019).  
Review, Hannah Holleman, "Dust Bowls of Empire: Imperialism, Environmental Politics, and the Injustice of "Green" Capitalism." Great Plains Quarterly, Vol. 39 No. 4, (2019): 394-395.
Review, Katherine Ellinghaus, "Blood Will Tell: Native Americans and Assimilation Policy." Pacific Historical Review, Vol. 87 No. 4 (2018): 718-719.
Review, Miranda Johnson, "The Land Is Our History: Indigeneity, Law, and the Settler State." Great Plains Research, Vol. 28 No. 2 (2018): 226-226.
Review, Candace Wellman, "Peace Weavers: Using the Salish Coast Through Cross-Cultural Marriages." Montana, the Magazine of Western History, Vol. 68 No. 4 (2018): 85-87.