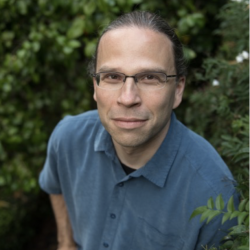 John-Carlos Perea (Mescalero Apache)
Associate Professor, Department Chair
Ph.D., Music, UC Berkeley
Phone: 415-405-3928
Email: johnc@sfsu.edu
Location: EP 107 (Department Suite, EP 103B)
Department Chair Office Hours (Additional Info): 
Monday/Wednesday, 9 - 11 AM or by Video Conference Appointment
Website(s): 
John-Carlos Perea Personal Website
At SF State Since: 
2010
Bio: 
John-Carlos Perea is an electric bassist, singer, cedar flutist, composer, and ethnomusicologist. An associate professor of American Indian Studies in the College of Ethnic Studies at San Francisco State University, Perea's research interests include jazz and improvised music performance and composition, urban American Indian lived experiences and cultural productions, music technologies, recording and archiving practices, social constructions of "noise," Native and African American jazz cultures, and the Creek and Kaw saxophonist Jim Pepper. Perea is the author of Intertribal Native American Music in the United States (2014, Oxford University Press). His most recent publication is "Music in Native America: The Intertribal Powwow" in Global Music Cultures: An Introduction to World Music (2020, Oxford University Press).
 
In addition to his scholarly activities, Perea maintains an active career as a GRAMMY® Award winning multi-instrumentalist and recording artist in the San Francisco Bay Area. He has recorded on eighteen albums as a sideman and two as a leader, First Dance (2001) and Creation Story (2014). His most recent creative work is Cedar Flute Songs, a live solo album expected in Summer/Fall 2022.
In April 2019, Perea was recognized by the San Francisco Arts Commission's American Indian Initiative for his musical contribution "to reclaim space, to challenge false narratives, and to reimagine public art from the perspective of Indigenous Peoples." Having previously been invited to serve as Visiting Associate Professor in the Department of Music at UC Berkeley (2021-22), Perea will serve as Visiting Researcher, Composer, and Performer (2022-23) at Berkeley's Center for New Music and Audio Technologies (CNMAT) to develop a musician-specific augmented performance with voice, cedar flute, drum, and emerging technologies.